Project Gallery Photos
---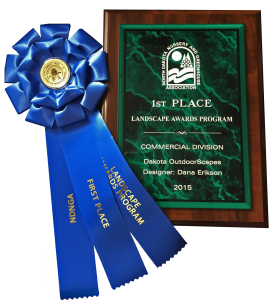 We won 1st place at the NDNGA Conference in the Commercial Landscape category for our work at Missouri Slope Lutheran Care Center in Bismarck.
There were many challenges in the project since it was an internal courtyard, so all materials had to go in and out through a busy nursing home. Thanks to cooperation from the great client, and the coordination from Antonio, Sabino, and crew, this project was a huge success. We were able to create a usable space for the residents and their guests. Excellent work by everyone involved in this project!
---
Water Feature Construction Example
admin
2016-02-09T11:12:05-06:00
Hardscapes
Paver Patios • Retaining Walls • Walkways
Fireplaces • Fire Pits • Outdoor Living
---
Outdoor Lighting
Path Lights • Tree & Plant Lights
House Lighting • Wall Lights
Residential Landscapes
Sod • Seed • Sprinkler Systems • Irrigation Design
Custom Rock • Edging • Plants and Trees
---
Water Features
Pond or pond-less water features custom built to your specifications.
Enjoy the peaceful sound of a waterfall in your own backyard!